Clarion Angelfish (Holacanthus clarionensis)
From The Aquarium Wiki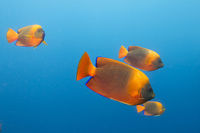 This animal is available captive bred
Tank compatibility
An aggressive fish towards other Angelfish and similar fish, keep one per tank. Do not keep with shy, smaller fish. Not reef safe.
Diet
Will accept most meaty foods such as shrimp as well as blanched vegetables and spirulina.
Feeding regime
Feed once or twice a day.
Environment specifics
It is a very territorial fish, and should not be kept with other species of Angelfish in a small tank. However, they can be kept together in a tank large enough.
Behaviour
Mixes with suitable tankmates.
Identification
A yellow-orange angelfish with green-grey overtones. Fins have blue outlining.
Notes
It was through a program to breed this uncommon angelfish in captivity to increase availability, that the Blue-Streak Cleaner Wrasse came to accidentally be bred. The cleaner wrasses were employed to keep the angelfish parasite free, and spawned with the angelfish; the fry were indiscriminately collected, so the wrasses were raised with the angelfish.
Pictures
Videos
External links