Snowball Pleco (Baryancistrus sp "L142")
From The Aquarium Wiki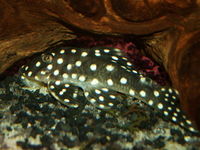 Additional names
Males have more pronounced pectoral rays with small bristles.
Becomes increasingly territorial towards other Plecos and bottom-dwellers as the fish matures. Will be peaceful towards mid and top-dwelling community fish.
Will graze constantly around the tank but generally will not touch algae. Feed a varied diet of algae or catfish wafers, blanched vegetables including courgette, cucumber and this fish shows a fondness towards sweet potato. Will also take occasional bloodworm and brine shrimp.
Feed once or twice a day.
Needs a spacious and well filtered tank with bogwood décor.
An active Pleco that will be most active at night and hide if bright lights are on. Will often sit near the outflow in the current.
Can be mistaken for many of the other spotted Plecos on the market, can be differentiated from the others by its dentition, it has 4 large rasping plates that cover most of its oval mouth as opposed to similar catfish with smaller plates.