Spilurus Tetra (Iguanodectes spilurus)
From The Aquarium Wiki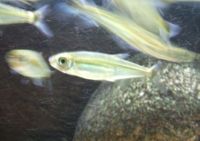 Additional names
Spilurus Tetra
Additional scientific names
Piabuca spilurus, Iguanodectes tenuis
This fish belongs to the very small sub-family Iguanodectinae and originates from the Amazon River Basin.
Difficult. Females may appear fuller in the belly than males.
Tank compatibility
[
edit
]
Must be kept in shoals of 6 or more and should not bother other peaceful community tank mates provided they appreciate the same kind of environment as the Tetra.
Will take most foods but prefers live such as insects, bloodworm and brine shrimp.
Feeding regime
[
edit
]
Feed once or twice a day.
Environment specifics
[
edit
]
Thrives in acidic water and a strong current with plenty of lateral swimming space.
Behaviour
[
edit
]
A peaceful active shoaling fish.
Identification
[
edit
]
An elongate pale coloured fish with a forked caudal. The body is almost translucent, with pale green colouration. During spawning they develop a pink-red colour.
Pictures
[
edit
]
External links
[
edit
]